Ruto administration to borrow Sh3.6 trillion in first term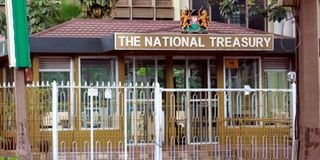 President William Ruto's administration is targeting borrowing Sh3.6 trillion in his first five-year term, upending his plan to go slow on debt.
The Sh3.6 trillion is equivalent to 89 percent of the record Sh4.1 trillion that his predecessor, Uhuru Kenyatta, borrowed in the five years to June 2022.
At Sh3.6 trillion, the borrowing is more than the Sh2.7 trillion that Mr Kenyatta chalked up in his first term and Sh1 trillion that the late Mwai Kibaki borrowed in his last five-year term.
Analysts had expected that the Ruto administration would cut fresh borrowing by a larger margin after committing to ramp up its tax collections over the next five years.
But the rise in spending under the so-called Bottom-Up economic plan, which proposes to channel resources to sectors that can have a mass impact in creating jobs and wealth, has prevented deeper cuts on the country's borrowing.
Dr Ruto's budget will top Sh5.1 trillion in the fiscal year ending June 2027 from Mr Kenyatta's last annual expenditure of Sh3.0 trillion.
The additional expenses are expected to wipe out the additional taxes as the government sets a target to increase Kenya Revenue Authority (KRA) collections to Sh3.78 trillion in June 2027 from the current Sh2.19 trillion.
The Treasury had targeted borrowing Sh862 billion in the current fiscal year that runs until the end of June, but the Ruto administration has since cut the target to Sh849 billion and Sh695 billion in the next fiscal year.
This is in line with the Treasury's call in a report for Kenya to "move from dependence on debt to dependence on revenues that are raised by taxpayers".
Kenya is at high risk of debt distress, according to the International Monetary Fund (IMF), and had a ratio of debt-to-gross domestic product of 62.3 percent as of October.
The plan to ease the nation's debt burden comes as several emerging and frontier-market countries seek to review the terms of their obligations with lenders.