Revealed: KRA only taxed half of Chinese imports last year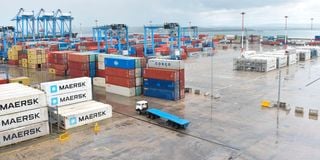 Chinese imports valued at Sh431.9 billion for the first 10 months of last year are missing from official data reported by the Kenya Revenue Authority (KRA), raising concerns over the scale of tax evaded in the election year.
An analysis of official trade data published separately by the two countries' tax authorities has revealed a wide disparity in the value of imports from the Asian economic giant.
Official KRA data, as published by the Kenya National Bureau of Statistics (KNBS), placed the value of imports from China at Sh377.5 billion in the review period.
However, the General Administration of Customs of the People's Republic of China (GACC), which is the equivalent of KRA, says on its website that the goods exported from China to Kenya during this period were valued at Sh809.4 billion — more than twice the figure given by the KRA.
This huge variation is also likely to bring into question the amount of taxes collected on imports from the world's second-largest economy, as goods shipped into the country attract a myriad of levies, including import duty, value-added tax (VAT), excise duty, import declaration fees (IDF) and the railway development levy (RDL).
Kenya is grappling with a problem of trade misinvoicing, whereby imports or exports are misquoted at the port in order to avoid paying custom duties. This form of tax evasion can also occur when there is import under-invoicing, which would cause fewer payments of VAT and customs duties due to the lower valuation of goods.
With trade mis-invoicing, importers could under-declare the price of an imported item, such as a phone, or buy 10 phones but only declare two, a practice that is common with the consolidation of imported goods.
The KRA had not responded officially to the Business Daily's queries on the disparity since Wednesday last week.
However, an insider who is not authorised to speak to the media said the agency was equally baffled by the huge variance between the two data sets.
The KRA, said the source, has since contacted the Chinese Embassy in Kenya to understand how Beijing computed its data following the Business Daily inquiry.
The official said the disparity could arise from some of the cargo coming to East African states such as Uganda, South Sudan, Rwanda, Burundi, Tanzania, and the DRC from China passing through the port of Mombasa.
"Such cargo could have been erroneously captured by the countries of origin as goods coming to Kenya and not as goods in transit," the KRA official said, adding that some countries use different codes to identify imports and exports.
But the variance could also lend credence to reports that the huge volumes of cargo disguised as goods in transit end up being dumped in the country en route to various destinations in the region to evade taxes.