Banks, Safaricom free to collect cash transfer fees as row rages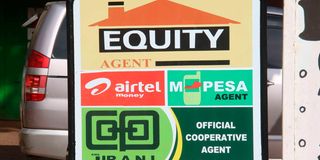 Banks and mobile money operators are now free to levy fees for transferring cash between their platforms after the High Court declined to extend an order suspending the charges.
Justice Mugure Thande declined to extend the freeze saying Safaricom and the Central Bank of Kenya (CBK) were not yet parties in the case.
The judge said the application to join the regulator and the telcos is yet to be determined.
The court issued an interim order on December 19, 2022, freezing the charges, pending the hearing of a case filed by Moses Wafula.
The court halted the reintroduction of charges for mobile money wallets and bank transactions, pending the determination of the case.
Banks, however, defied the suspension and continued to charge the fees on bank-to-mobile transactions, starting on January 1.
The CBK through senior counsel George Oraro opposed the extension of the order, arguing that the regulator and the banks were yet to be made a party to the case, hence difficult to comply with the order.
The lawyer said the court should hear all parties first, before suspending the charges.
He further said the case had been filed at the wrong forum as there are alternative dispute resolution mechanisms, which can be used to resolve the matter.
The judge directed CBK and other parties to file their responses by February 6.
The court also said the case would be mentioned before Justice Anthony Mrima on March 8 for directions and for an application to join the CBK, the mobile operators and the Competition Authority of Kenya.
The CBK had on December 6, 2022, granted banks the green light to reinstate charges effective January 1, 2023, and Mr Wafula moved to court, saying the charges should not be passed to consumers.
The charges were waived on March 16, 2020, as part of the emergency measures to facilitate the use of mobile money at the height of the Covid-19 pandemic. Most Kenyans and businesses shifted to digital payments.
Mr Wafula sought temporary orders, arguing that the M-Pesa Paybill charges are illegal and more funds from the public would have been lost, which may be difficult to ask the banks to refund the same if he is successful in his case.
He contends that his rights and those of other members of the public had been violated, infringed upon and continue to be threatened by the giant telecommunications firm and the Government of Kenya given the directive issued by CBK.
He argues that it is a contravention of the law for the banks to continue riding on the M-Pesa Paybill infrastructure and making money from the public.
According to Mr Wafula, the charges incurred in M-Pesa Paybill services are to be paid for by Safaricom's primary clients, such as banks and not the consumers.